OMG! I have now idea where the time has gone! I swear I blinked my eyes and it's only 10 days until Christmas!!! Yesterday seems like it was just Thanksgiving Day! It felt like months of waiting before Julia arrived from Australia, and she has already been gone for more than a week! I think 2009 will go down in the record books as the shortest year in history for me. Life has truly been a whirlwind, especially in the last few months, but I do look forward to seeing what 2010 has in store for us. Good things I hope! Michael will graduate from UT with his master's degree, and he will be job hunting come spring, and with many fingers crossed, hopefully we will be househunting by this time next year. But as I have learned in my wise, 27 years (he he), plans don't always play out in the wonderful game of life like we want them to!
Well, I am happy to say that one thing this year went better than planned, and that was our Thanksgiving festivities. We hosted Michael's family, a few of our friends, and 2 dogs in our tiny apartment, but it was so much fun! We had more food than you could ever imagine (including 3 fried turkeys), and all the wine and spirits one would ever need. Needless to say, it was a very, very, very great holiday! It was so great in fact, that some of us couldn't keep our eyes open because of all the tiresome holiday fun(hmmm hmmm CAROLINE). One of the best things about the holiday was having two of my closest friends Elizabeth and Julia join us. I'm glad I got to spend Julia's first ever Thanksgiving holiday with her! Aside from being weary of a few food items, including Sean's creamed onions, I think she had a blast!
A few days after Thanksgiving, Julia received a great going away present before heading back to Australia. The first snow of the winter fell on December 5, and though it all melted by the afternoon, we got to play for a little while, and I think Julia was impressed. Thank You Mother Nature!!!
Julia injecting her first Bird!



Scarlett discovered she likes Turkey!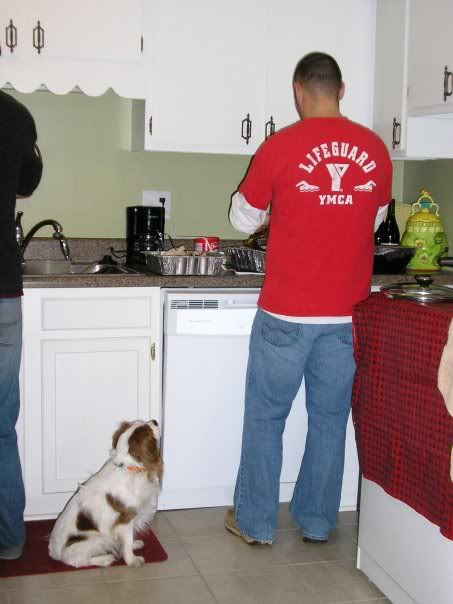 Our first winter snow!



Jules and her earmuffs!